Inflammatory disorders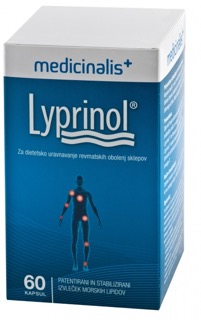 Lyprinol®
is powerful natural anti-inflammatory for joints and neuralgic pains as it contains 30 most effective unsaturated fatty acids.Moreover it is proven to have 92 % of satisfied users.
Lyprinol® helps to:
• relieve arthritis pain
• reduce joint inflammation and swelling
• increase joint mobility
• maintain healthy airways and breathing passages
Lyprinol is a natural anti-inflammatory for pain relief from arthritis and a range of other inflammatory disorders.
Lyprinol® is a stabilised natural marine lipid extract comprising a rare combination of lipid groups and unique Omega-3 polyunsaturated fatty acids which has been shown through clinical research to be an extremely potent natural anti-inflammatory. Independent studies have shown there is little doubt that Lyprinol® can provide a potent means of controlling and reducing the damage caused by the excesses of the body's inflammatory responses and provides natural pain relief for a range of inflammatory disorders.
What is Lyprinol?
A stabilised natural marine lipid extract comprising a rare combination of lipid groups and unique Omega-3 polyunsaturated fatty acids known as PCSO-524™. Lyprinol® has been shown through clinical research to be an extremely potent anti-inflammatory.
Independent studies have shown Lyprinol® to be:
100 times more potent than EPA Max
125 times more potent than the original freeze dried mussel powder
175 times more potent than evening primrose oil
The unique grouping of fatty acids in Lyprinol has evolved as the most potent group of Omega-3 lipids in blocking the 5 - lipoxygenase metabolic pathway responsible for inflammation in the body.
Inflammopharmacology, Vol. 0, No. 0, pp. 1-17 (1999):Over the counter (OTC) oral remedies for arthritis and rheumatism: how effective are they? M.W. Whitehouse.
This unique marine product has been exposed to critical review by many research institutions world wide and is proven to have significant anti-inflammatory activity in vitro in inhibiting leukotriene synthesis and in vivo by markedly reducing the severity of adjuvant-induced poly arthritis in rat models. Various publications have been released confirming these results all of which are available on request. Leukotrienes are formed in the body via the lipoxygenase pathway and are responsible for initiating and extending the inflammatory process. The work carried out in The Queen Elizabeth Hospital and the University of Adelaide in Australia and the Charite University in Berlin, Germany has clearly demonstrated that the stabilised marine lipid Lyprinol® is a powerful modulator of the 5-lipoxygenase pathway, thus its ability to markedly reduce the damaging effects of persistent inflammation that one may find in various allergic reactions including arthritis and other inflammatory disorders including inflammation of the respiratory airways. Since many of the currently used anti-inflammatory drugs, in particular the non-steroid anti-inflammatory drugs (NSAID), function via the cyclo-oxygenase pathway, much recent international research and effort has gone into the development of modulators of the second major pathway, the lipoxygenase pathway.
Structure of Lyprinol
Lyprinol® is a mixture of five main lipid classes including sterol esters, triglycerides, free fatty acids, sterols and polar lipids. There are approximately 8-10 different marine sterols in the sterol esters and sterol fractions. It also contains more than 30 different essential fatty acids which are mixtures of saturated, monounsaturated and polyunsaturated fatty acids.
Lyprinol® is a source of long chain omega-3 polyunsaturated fatty acids which are essential for health in humans. The two main omega-3 PUFA's present in Lyprinol® are eicosapentaenoic acid (20 carbons and 5 double bonds, shorthand =20:5 omega-3) (EPA) and docosahexaenoic acid (22:6 omega-3) (DHA).
It also contains several other fatty acids which belong to the omega-3 PUFA family. These fatty acids all have four double bonds and have carbon chain lengths of 18, 19 and 20 carbon atoms, respectively, thus they are described as 18:4 omega-3 (18:4n-3), 19:4 omega-3 and 20:4 omega-3 (ETA).
A product from the sea
Following fifteen years of international scientific research by independent scientists from the Royal Melbourne Institute of Technology University, the goal of identifying the principal components responsible for the extract's high potency was achieved. The compounds were trademarked, PCSO-524™ which was then formulated in to the product Lyprinol®.
Most mussel powders over the years have shown conflicting results in efficacy studies due to the oxidation of their non-polar lipids (PCSO-524™) which is where their true activity lies.
Marine Complex
Lyprinol® is the formulated product containing the unique marine lipid group comprising a unique combination of different non-polar lipid groups and Omega-3 polyunsaturated fatty acids which are extracted from the New Zealand Green-Lipped Mussel (Perna canaliculus) along with pharmaceutical grade olive oil and d-alpha-tocopherol (vitamin E).
Many scientists and government institutions around the world agree that the average western diet is very high in another group of fatty acids, namely Omega-6's. As a result our cell membranes are unusually rich in precursors associated with inflammatory processes which can lead to arthritis, psoriasis and asthma, to name a few.
Natural arthritis relief
Studies using Lyprinol® have shown positive results in relieving arthritic conditions by modulation of the principal human inflammatory pathway known as "the lipoxygenase pathway".
The lipoxygenase pathway has been long recognised by researchers as the major pathway of operation for many inflammatory diseases and subsequently scientists have been searching for a lipoxygenase pathway inhibitor for the past two decades. Several synthetic inhibitors have been developed but all have harmful side effects for humans.
Lyprinol® is derived from a food source and is the first effective naturally occuring lipoxygenase pathway modulator which is safe for human consumption.